Summer in Tours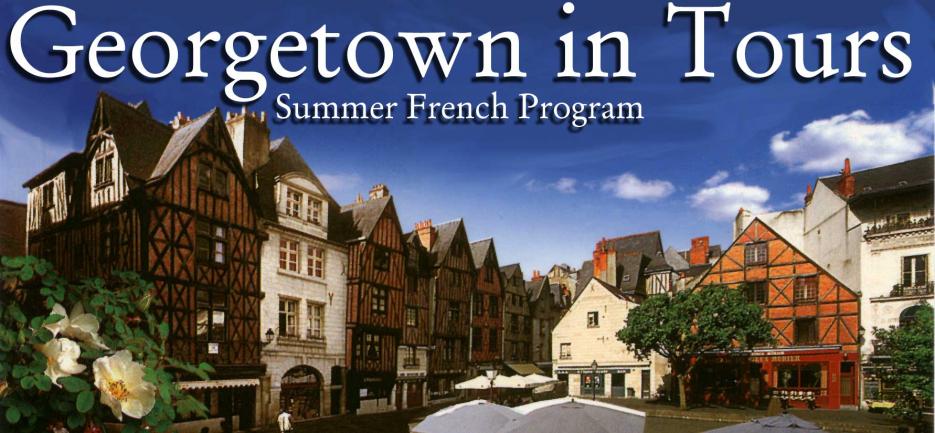 Georgetown in Tours is a six-week, six-credit intensive immersion program that provides participants with an exciting opportunity to experience French language and culture first hand. This program is open to all students except true beginners.
Through a unique combination of courses, field trips, discovery activities, and a homestay with a local family, students make the most of their summer in France while enjoying the natural beauty and historical richness of the fabled Loire Valley. The city of Tours combines the advantages of small-town size and large-town amenities (shopping, museums, festivals) with Old-World charm: the historic town center, with its 15th- and 16th-century half-timber houses, is a UNESCO World Heritage Site.
The program begins with a two-week "Cultural Integration Workshop" taught by Georgetown faculty members. This workshop covers current socio-cultural and linguistic realities in France through the use of authentic French texts and media (magazine and news articles, videos, ads, etc.). In dissecting and discussing these various texts, students gain a deeper understanding of modern French society and are able to more fully adapt to life in France.
After the two-week workshop, students begin a four-week session at the Institut de Touraine, a renowned institution specializing in French-language programs for foreigners. The session at the Institut includes about 20 hours of language classes weekly, taught by its own native instructors; advanced levels include classes on content areas such as art history, international relations, and literature.
SFS students have the opportunity to take the proficiency exam, while others may take the French DELF or DALF (Diplôme de Langue Française).
Please refer to the following links for more information:
---
For more information, please contact Program Director Aaron Emmitte and visit the Office of Global Education's website.