Summer in Tours + Paris: Student Testimonials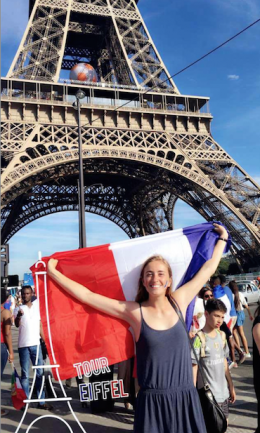 "It was like a dream." That is the phrase that pops into my head each time someone asks me about my time in Tours/Paris. From dinners with my host families to sampling macaroons around Paris, this trip allowed me to explore not only another city and country but also myself. The structure of program delved into the cultural, historical, economical, and political backgrounds of France, while also probing me to explore my own interests, those of health care and prescription drug pricing. Outside of the classroom, I could walk along the Seine, peruse all of the museums, eat lots of treats, and engage in meaningful conversations with not only my peers but also with each person I encountered. I grew throughout this program. My French grew. And, my understanding of the world around us. I would recommend this program to any Francophile that wants to spend their summer in two incredible places.
Margaret McGraw, Tours+Paris 2016
---
The Tours & Paris Summer Program has been the highlight of my experiences at Georgetown thus far. We participated in a 2-week long language and cultural immersion program at the beginning of our trip in Tours, and spent the remaining 4 weeks with a host family in Paris. I was located in the 14th arrondissement with a host grandmother, and I really could not have asked for a better experience. In my opinion, the homestay aspect of the program was the best way to fully immerse myself in Parisian culture. All of our classes were at the Chamber of Commerce in the 18th, but each week we had a different cultural excursion—a walking tour of the Seine, visit to the Minister of Foreign Affairs office, etc. The work load is very manageable and allows you the time to profit from all that Paris has to offer. As a group, we would frequently meet up for dinner and drinks in the 5th, visit museums, or promenade in the Marais, which was a nice way to feel close to home while being abroad. Additionally, we met a lot of interesting people who taught us a lot about French culture and politics—in fact, I still stay in touch with all of them. The best part about being in Paris was knowing that there is always more to discover. No matter how many pastry shops you visit, museums you see, or boutiques you discover, you can always find a new spot that's just as interesting, if not more interesting, than the last. Personally, I will always love Saint Germain, but Trocadero comes in close second. If you're interested in French language and culture, I highly recommend the Paris & Tours Summer program—it's a requirement for your experience at Georgetown!
Isabella Blosser, Tours+Paris 2016
---
Choosing to study abroad in the Tours + Paris summer program was one of the best decisions I have made so far at Georgetown. Not only did I get six course credits and pass my SFS proficiency exam, but I also made lasting friendships that have continued on the Hilltop. The Tours + Paris program offers students the unique opportunity to engage with Georgetown French department faculty in ways impossible on campus, and also introduces you to peers who share an interest in the French language. The courses at the Centre de Langue Française in Paris are engaging and highly participatory, giving students a great opportunity to practice their French and their public speaking skills. Additionally, staying with a host family helps students immerse in French culture and experience the Parisian lifestyle. Overall, I had a great experience with the program, and would definitely recommend it to anyone who wants to improve their French and push themselves out of their comfort zone.
Becca Hinkhouse, Tours+Paris 2016
---
The Tours and Paris program was one of the coolest experiences I have had and is definitely going to be something I remember the most from my time at Georgetown. I have never travelled to Europe before, and having my first time there last for the entire summer made me feel like I really got the chance to pretend to be a local. The first two weeks in Tours forced me to really practice my French even though I was nervous because it is such a small town and not many people spoke English, as opposed to in Paris where most people tried to respond to me in English. While Tours was fun, Paris was definitely my favorite part of the trip. The class field trips in Tours were great experiences, but taking the train to class everyday and stopping on a sidewalk in Paris for a coffee and to finish my homework or to sit and watch the people go by is something I will never forget. Being in France in the summer and being able to take part in everything Paris has to offer on days like Bastille Day is an amazing opportunity offered by Georgetown and I would recommend this program to anyone who is interested.
Rose Edwards, Tours+Paris 2016
---
Studying abroad over the summer was the perfect option for me because I did not want to cut my Georgetown experience short yet I wanted to fully immerse myself in another culture. The Tours + Paris program is unique because it allows you to experience life in a quaint city in the heart of France and then transition to the pulsating life of Paris. One of my favorite memories was touring the National Assembly in Paris and running into Jean-Marc Ayrault, the Minister of Foreign Affairs and former Prime Minister of France. I would relive these short six weeks in a heartbeat!
Olga Golovneva, Tours+Paris 2016
---
I can't say enough about how wonderful this program is! In just six weeks, I fell completely in love with France and its people and its culture (and, of course, its food). From living with a host family and exploring chateaus to taking weekend trips and cruising on the Seine, Summer in Tours and Paris offered a perfect blend of planned activities and independent exploration in order to become completely immersed in the French language and culture.
Clara Cecil, Tours+Paris 2016